Coming Soon… Advertising on Instagram
Facebook announced that they are rolling out the ability to advertise on Instagram.
Why is this a good thing for businesses?
Instagram is one of the most engaging social media platforms, and until now it was tough for businesses to get actual measurable conversions from Instagram organic posts. Businesses could only include a link to their website in their Instagram profile, meaning that prospects would need to view the businesses profile to then be driven to the businesses website.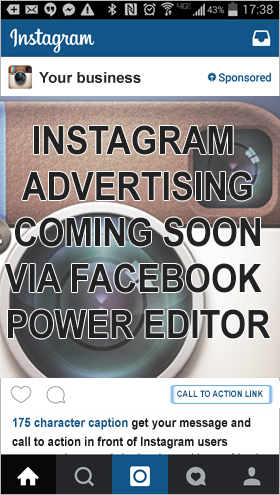 Things will change with Instagram ads. From the information Facebook have published, there will be the ability to add a 'call to action' as well as a link to a website directly within people's stream.
Getting ready to run Instagram Ads:
The ability to run Instagram Ads will be rolled out to businesses, but you can get ready by 'claiming' your Instagram profile in your Facebook Business Manager, then sit and wait, patiently.
What you'll need:
An Instagram profile 'claimed' by Facebook Business Manager
At least one Facebook Ads Account with a current payment method, assigned to the Instagram profile
Facebook Power Editor with access to the assigned Facebook Ads Account
Instagram Ad details:
Image Size: Square ideally 640px x 640px
Text on image: 20% rule applies eg not more than 5 cells in a 25 cell grid to contain any part of text.
Caption: 175 characters
Your Instagram ad will appear in people's Instagram feeds along with images shared by their friends, family and other Instagram accounts they follow.
Ad Display Layout:
Top-left will be your Instagram handle click through to your Instagram profile.
Top-right will be a Sponsored icon.
Bottom-right will be a call-to-action button you chose when creating the ad that will go to a website URL you specified.
Directly below the image will be the text caption you included with your ad.
More information about Instagram Advertising – https://www.facebook.com/business/help/107525429594443/
We'd love to know what you think… Do you think advertising on Instagram will be beneficial to your business?