Facebook Q&A: How to turn location targeting on Facebook Posts
Question: Some times I just want a Facebook Post to show to a specific group of people on Facebook based on their location, demographic or interests. How do I do that?
Answer: It's a great idea to use what is called "post-gating" to control the audience of your posts, especially when the content of that post is really only beneficial to one particular segment of your Facebook Page fans.  Facebook is in the business of providing Facebook Users the best possible experience, and that would include serving up the most relevant content into their newsfeed.
To access the post-gate settings of a post, you click on the target icon in your publisher box on your timeline.

If you don't see the targeting icon, you may need to activate the option under SETTINGS > GENERAL > AUDIENCE OPTIMIZATION FOR POSTS.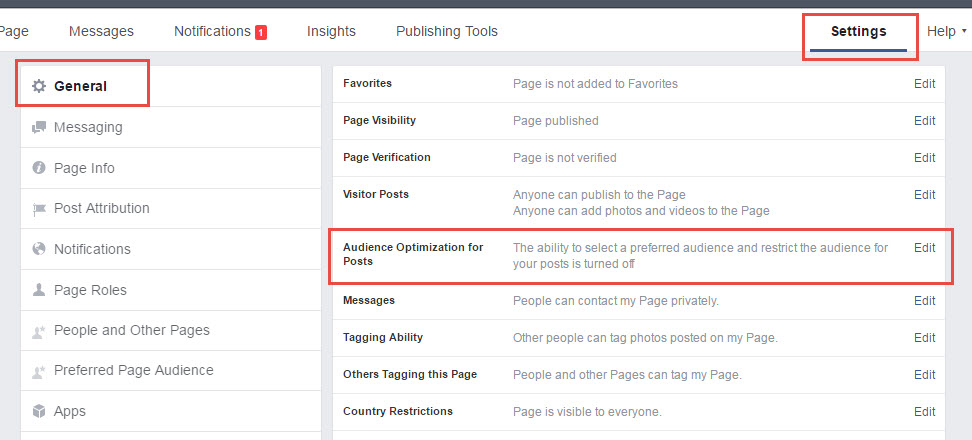 Some examples of why you'd use "post-gating" to control the audience:
---
Example 1: Preferred Audience
Interests based preference – an online book shop had a large shipment of books titles "How to look after your chickens?" and needed to let their fans who loved chickens know about this book, but didn't particularly want to annoy the rest of them Facebook fans with the post, so they posted on their Facebook Page:
"Hot off the press: the latest book on caring for your chickens is now available in our online store. Order now before it sells out." 
Target – I'd prefer that only people that are interested in: keeping chickens, raising chickens, chickens as pets, Backyard Poultry Magazine see my post.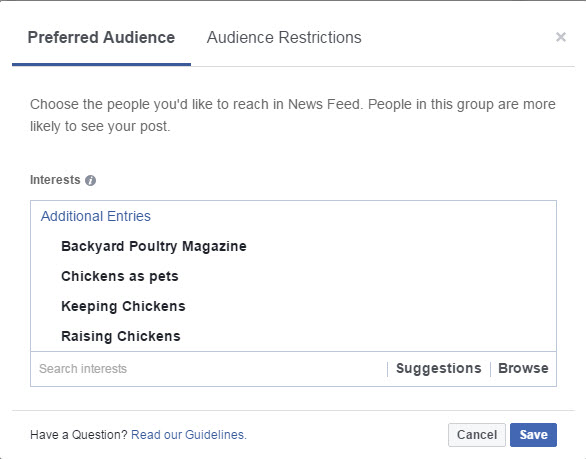 Pros/Cons: this is only telling Facebook your 'preference' for the reader, it will not exclude people outside this audience seeing the content.
---
Example 2: Audience Restrictions
Demographic restriction based – a hairdresser has a cancellation 2 hours prior to the scheduled appointment, so posts on their Facebook Page:
"Flash Sale" We've had a cancellation, their loss is your gain. 1 spot available this afternoon. Ring to claim and get 20% off your hair cut.
Target – Only show this post to Females aged 25 to 55 in the local area.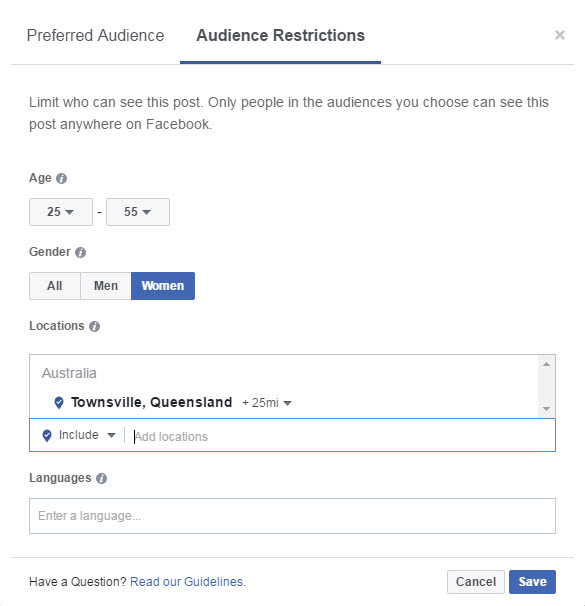 Pros/Cons: unlike "Preferred Audience", "Audience Restrictions" will hide the post from anyone that does not match the criteria, no matter where the post is shared.
---
You could use each option separately, or combine them to refine the target even further.
How do you think 'post-gating' will help your Facebook results?