Facebook Page Stolen by Admin or Ex-employee?
Is your Facebook Page being hi-jacked?
Facebook Pages are encouraged to have more than one Admin, to guard against the off chance you can't access your Facebook Profile and you need another Admin to re-connect you to your Facebook Page. Well, this safe guard may actually be leaving your page open to hi-jacking, if the other person that Admins your Facebook Page decides to kick you off your own Page.
SCENARIO:
You are the owner of a business; you use your Facebook Profile to create a Facebook Page for your business; you then give ADMIN rights to a number of your employees so that they can administer the Facebook Page on behalf of your business…. all goes well, until one of the employees gets the sh*ts and decides to kick all the other ADMINS off the Facebook Page. You lose control of your Facebook Page; all the hard work in collecting "Fans" and "Likes" and all the interaction and engagement you spent hours working on wasted; not to mention all the money you spent on Facebook Ads… all now at the mercy of a disgruntled ex-employee, who can do terrible things on the Page if they feel like it.
SOLUTION:
This is the position many Facebook Pages owners find themselves… and there isn't an easy way to fix the problem. Basically, all the research I have done says that you could apply to Facebook to intervene, however, chances are they will just shut the Page down. Now that's not an option for many small businesses that have spent hours interacting and engaging to build a following… OK, so what else can you do?
Beg or Threaten?
You could start by begging the ex-employee for the Facebook Page back; or
ask another employee that's still friends with the ex-employee to see if they can't talk sense into them;
you could write them a lovely letter telling them they are acting illegally and that if word gets out that they 'stole' a previous employer's Facebook Page, they may find it hard to get another job; or
you could bring in the big guns and get your lawyer to write a short sharp "cease and assist (/desist)" letter that might put the wind up the ex-employee; or
you resort to lodging a complaint with Facebook, Facebook shuts down the Page and you start all over again. 🙁
I said it wouldn't be easy…
In my research, I did find two Facebook forms that might be used to provide a resolution, although not ideal:-
Facebook Reporting a Violation/Infringement of your Rights Form
(https://www.facebook.com/help/contact/?id=208282075858952)
This form could be used to report that you are the rightful owner of the Facebook Page's copyright/trademark and by ticking the box that states you don't have access to the Page, and giving Facebook enough evidence that you are in fact the rightful owner of the copyright/trademark/Page, they might just feel generous and reinstate you as the ADMIN. (I would suggest that you advise them of your website as evidence as long as you have your name and contact details on it; maybe also include your business registration numbers etc and any registered trademark details, if you have them).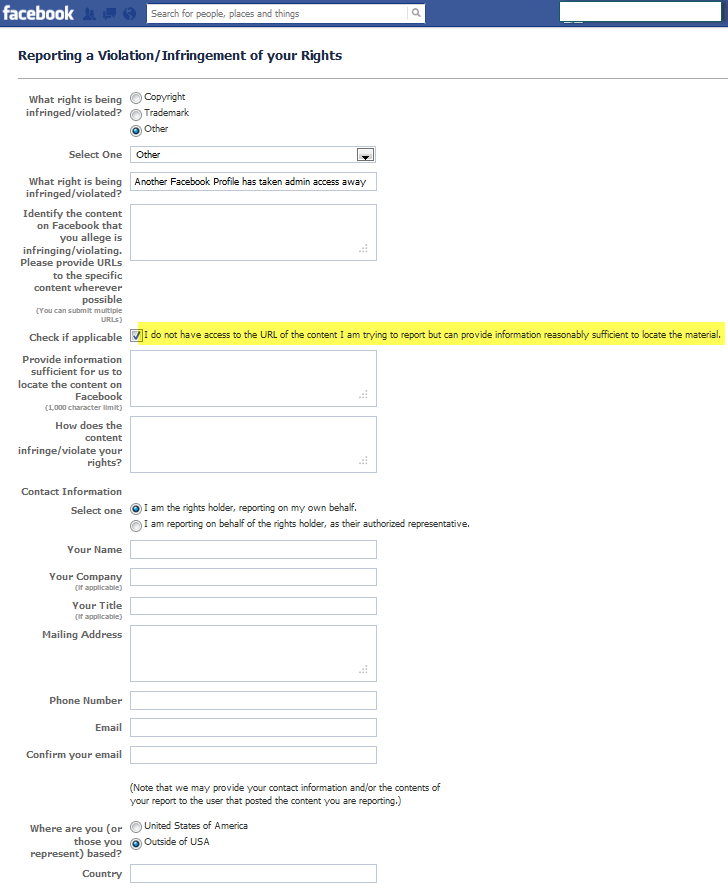 Facebook Request a Page Merge Form
(https://www.facebook.com/help/contact/?id=160167234097982)
This form is used to merge Facebook Pages. So you could create a new Facebook Page, and then fill in this form to merge the 'stolen' Facebook Page over to the newly created Facebook Page, then Facebook will just shut down the 'stolen' Page. Problem is they state you need to be the admin of both pages, so I'm not sure if this will work as you no longer have admin rights to the original Facebook Page.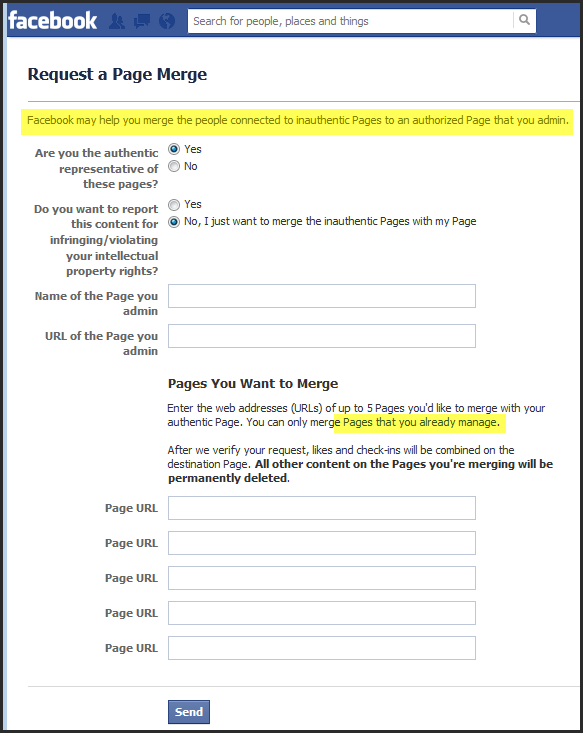 Now, I haven't tested any of these theories out, so I suggest you do your own research before implementing any of the above ideas, but I think if your Facebook Page is stolen, you probably appreciate any ideas that you can get. Let us know if you try any of these out and let us know the results, either positive or negative.
Good luck…
For a comprehensive list of Facebook forms, check out Mari Smith's site – http://www.marismith.com/how-contact-facebook-directory-of-forms/
BREAKING NEWS
Facebook have now added a new Admin Manager Role level feature (https://www.facebook.com/help/?page=394501407235259), so you can go and set levels of Admin rights on all the Admins on your Facebook Pages, but you'll still have to consider having a very close friend set up as a full Administrator, just in case, but at least you can limit your employees admin rights.