Social Networking in the Workplace
Social Networking is currently being used more & more in the workplace to communicate with clients and potential clients.
This is why, there are approximately 500 million world-wide users of Facebook between the ages of 18 and 64.
Then why is it with more than half a billion users…
sharing information, keeping up to date with issues, forming shared interest groups, sending pictures, information and videos
that companies are struggling to utilise this free social networking system into productive use.
I recently attended a business expo in North Queensland.
I was talking to an employee of a huge government concern regarding social media, interestingly she told me that her employer had an active Facebook and Twitter account and yet no one in the workplace were able to access these networking sites during work hours.
Ironic!
If a workplace is going to utilise those social networks then let's put them to better use.
In other words, give employees the opportunity to share their skills and knowledge as this opens the door for collaboration amongst team members .
Have a meeting discuss the pros and cons of initiating Facebook, LinkedIn, YouTube, Twitter etc into the workplace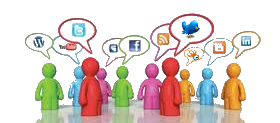 where would it show improvements, how could it make work better…
You will probably be surprised at the responses you get, e.g. Joe has already thought if we had Twitter accessible through our workplace we could tweet our clients when business is a bit slow and promote a cheap lunch if they mention a key word from the tweet within a timeframe.
Off course companies have concerns regarding the use of these networks sites during work hours.
Guidelines need to be set for both external and internal social networking and collaboration.
I mentioned internal social networking, this is a separate issue and I have written about this in Social Networking Within A Workplace.
However, guidelines need to be set…
make it clear to employees that they are personally responsible for the information they post
and that real names should be used
remind all that social networking at work is about work
Get everyone involved
…this is great for staff morale, you will be surprised at what your team can now produce with social networking in the workplace.
If you require any direction in this area we here at Townsville Social Media Marketing can offer a free analysis of your social networking needs.
Simply send us your email address and your requirement or you can call us directly on 0429 883 462.
Thanks Kaz 🙂