How to schedule your Instagram Posts using Crowdfire
It's pretty unanimous, images are one of the most effective mediums in social, they catch prospects attention and they foster more engagement and shares.  Instagram, an image sharing social community platform, is one of the most effective ways of getting your images out in-front of prospects.
BUT… Instagram is time consuming if you what to post consistently. Solution is Crowdfire app and here's how to set it up:
Easy Steps to Setup Scheduling for Instagram
Pre-reqs: You need your Instagram account login and password and Twitter profile login and password.
Steps:
1. Install the Instagram app on your mobile (if you haven't already) and login to Instagram with your Instagram account
2. Install the Twitter app on your mobile (if you haven't already) and login to your Twitter account
3. Search the app store and install the Crowdfire app. Note: the Crowdfire app will install two apps:
4. Open Crowdfire 'thumbnail' icon on your phone and use your Instagram login to signin
5. This will create two new icons on your phone, the rocket "Publish" is the app that will facilitate your Instagram scheduled posts and the thumbnail "Growth" platform which is a great tool to build your community on Instagram and Twitter.
6. Click on the rocket icon to view, edit, delete or publish scheduled Instagram posts.
Crowdfire lets you plan and schedule posts to Instagram, but it will not actually publish the post, you need to do that manually. You will receive a mobile notification when it's time to 'publish' a scheduled Instagram post. When you get the notification, click on the message and it will open in the publish app, click the post icon to POST and it will ask you to select your INSTAGRAM account, click and it will open the scheduled post inside Instagram ready for you to publish like you would any other normal Instagram post. You will have the option to share the post also on Twitter and Facebook and other social platforms if you have them set up.
For more information:
https://itunes.apple.com/in/app/justunfollow/id528626975?mt=8
https://itunes.apple.com/in/app/publish-on-twitter-instagram/id927931359?mt=8
https://www.crowdfireapp.com/help.html
To setup a link between Instagram and your Facebook Page and your Twitter profile so you can share. Inside Instagram, click on the gear icon in the top right, scroll down and click on "LINKED ACCOUNTS" and select the accounts you want linked to your Instagram. NOTE: you need to have the Facebook App and the Facebook Pages App and the Twitter App signed before you can link the accounts to Instagram.
For more information:
https://help.instagram.com/356902681064399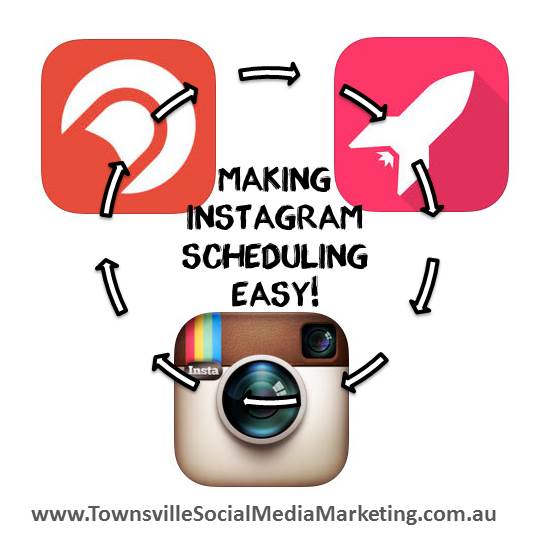 5 Responses to How to schedule your Instagram Posts using Crowdfire