Move your YouTube Channel from your Google+ Profile to your Google+ Page
Did you know that your business' YouTube should be linked to your business' Google+ Page?
I see this a lot with my clients, they jumped in to YouTube and created a Channel, started uploading videos promoting their business and driving traffic to those videos… then they realise that the Channel they've created is actually linked to their personal Google+ Profile when it should be linked to their business Page.
Here's the steps to take to 'move' a YouTube channel from one Google+ Page or Profile to another Google+ Page or Profile: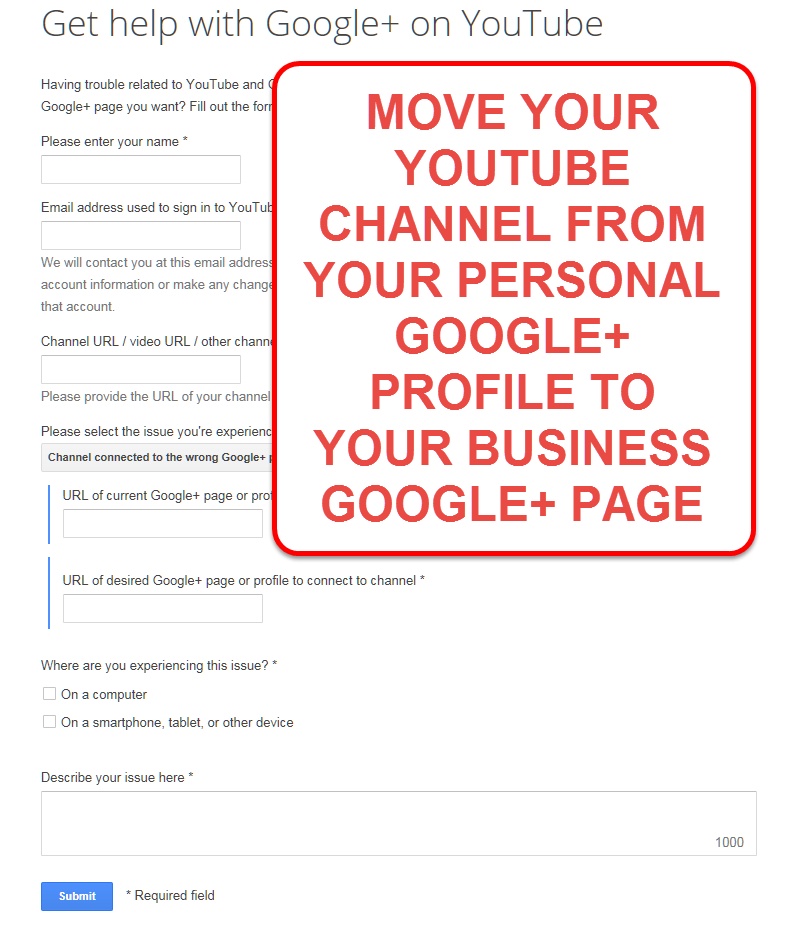 Complete the form at: https://support.google.com/youtube/contact/ytgplus
Enter your Real Name (this should be the name of the personal Google+ Profile you use to login to YouTube):
Email address used to sign in to YouTube:
Channel URL:
Please select the issue you're experiencing:
URL of current Google+ Page or Profile:
URL of desired Google+ Page or Profile to connect to channel:
Where are you experiencing this issue? Tick both
Which device?
Describe your issue here: "I need to move my YouTube Channel so that it is connected with my Google+ Business Page instead of my Google+ Profile".
Then click SUBMIT.  Someone from Google will evaluate the situation and move the channel over (hopefully)
Then, once the move is approved, you'll see a YOUTUBE link in the tabs on your business' Google+ Page… yeah!
Let me know how you go…
3 Responses to Move your YouTube Channel from your Google+ Profile to your Google+ Page